Mary Gospe is an award-winning, performing singer/songwriter, recording artist and multi-instrumentalist. Her debut album, Time to Soar, was released in November 2019 and earned accolades from New Age music reviewers. In June 2021, Time to Soar was nominated by ZMR Awards for Best Vocal Album and Mary for Best New Artist.
Mary co-founded The Song Gardeners along with singer/songwriter Corrie Dunn in 2019. Along with their producer, David Scheibner, TSG released seven singles, establishing themselves at the forefront of a new musical genre, New Age Pop. Their debut album, People Passing Through, which contains eight original tracks, was released on October 1, 2021. The album debuted at #2 on the New Age Music Chart, #4 on the OWMR One World Music Radio Top 100 Albums chart and was named Best New Age Music Album 2021 by New Age Music Guide. It won 3rd place for the One World Music Radio Best Vocal Album of 2021 award. Learn more at thesonggardeners.com.
People Passing Through - The Song Gardeners
People Passing Through is the award-winning debut album by The Song Gardeners (Corrie Dunn and Mary Gospe). It contains eight original contemporary pop songs with positive, empowering messages of love, unity, freedom, and peace delivered with gorgeous vocal harmonies and a chill, groove vibe. The album was produced and mixed by David Scheibner, mastered by Bernie Grundman and released by Honey Spun Records.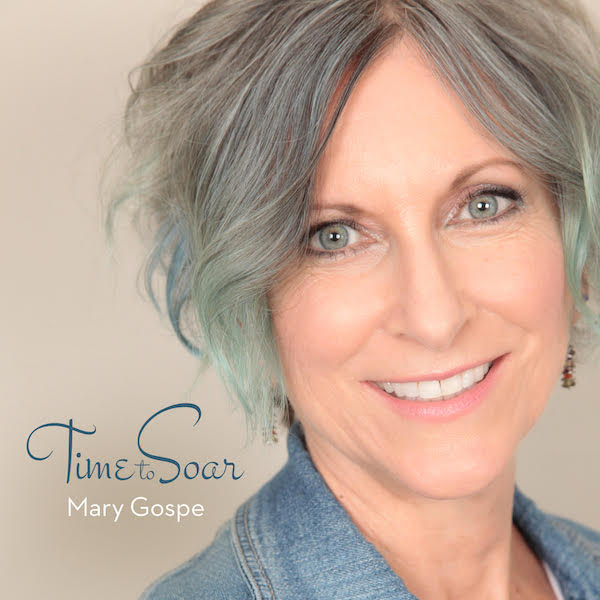 Time to Soar - Mary Gospe
Mary Gospe's debut album, Time to Soar, was released on November 15, 2019. It contains 12 original spiritually-infused songs. The album was co-created with multi-instrumentalist and producer, David Vito Gregoli. It won 3rd place in the Best Vocal Album of 2019 award by One World Music Radio.
Time To Soar, Mary's debut album was released on November 15, 2019. Each of the 12 original New Age pop songs are filled with positive, empowering, spiritually-infused messages. (View Lyrics.)  Songs such as "Free To Be Me," "Unity" and "The Black Crow Prophecy" feature Mary's powerful vocals while the ballads "I Choose Love" and "All Is Well" showcase her angelic, calming voice.
Co-created with producer/multi-instrumentalist, David Vito Gregoli, Time To Soar encourages the listener to shed fear and worry and embrace their authentic self with love, trust, joy and freedom.
Reviews of Award-nominated "Time to Soar"
3rd place winner of  "Best Vocal Album of 2019" by One World Music Radio UK.
"…I leave convinced I have heard one of the albums of the year, brilliantly performed, sung and played with sublime talent, wonderfully produced by the master Vito Gregoli and each and every song carefully created to manifest one of the most inspirational albums I have heard for some time, it also brings the listeners something even more special, hope; this is an album you must have at all costs. Read Full Review…
"Mary's stunning vocals (in conjunction with instruments from one of our multi-instrumentalist musical heroes, Vito Gregoli), along with her razor-sharp lyrical skills make for an album that brings you "the best" all in one album!
I give Mary a MOST HIGHLY RECOMMENDED rating, with an "EQ" (energy quotient) score of a (perfect) 5.00… which means that she also gets a "PICK" from me for "best inspirational vocal work". Read Full Review…
"This is the kind of music that seeps into your soul and stays there."
Mary's lyrics are well-crafted, positive, and are filled with spiritually infused messages created for individuals and for humanity.
Mary's voice is beautiful, with a soothing, calming, and memorable quality that brings her powerful lyrics to life. So lovable from the very first note of the album and truly heartwarming through and through. Read Full Review…
Don't you love albums that refuse to be background music, albums that seem to pull you in and demand your undivided attention? The first time I listened to Mary Gospe's "Time To Soar" I only knew that it was not a typical New Age music album, but more of a pop/crossover release produced by the amazing David Vito Gregoli. 53 minutes and 12 seconds later, I had not only become a Mary Gospe fan, but I had also learned more than I would from a stack of self-help books. "Time To Soar" is a genre-defying release, colorful and brimming with optimism, capable to shake up any New Age music playlist.  Read full review…